Product Description
In stock for immediate shipping.
Classic Monsters of the Movies issue #27 is another beautiful edition of our flagship magazine, wrapping you in nostalgia for the classic horror films that never fail to fire our imaginations. Our vibrant approach to vintage horror cinema brings the movies of yesteryear back to screaming life with a combination of first-rate production values, crisply reproduced stills and passionate journalism. From the earliest silents through the genre's many golden ages, right up to the kinds of modern classics that hark back to the glory days, there's something in Classic Monsters of the Movies for Monster Kids of any age.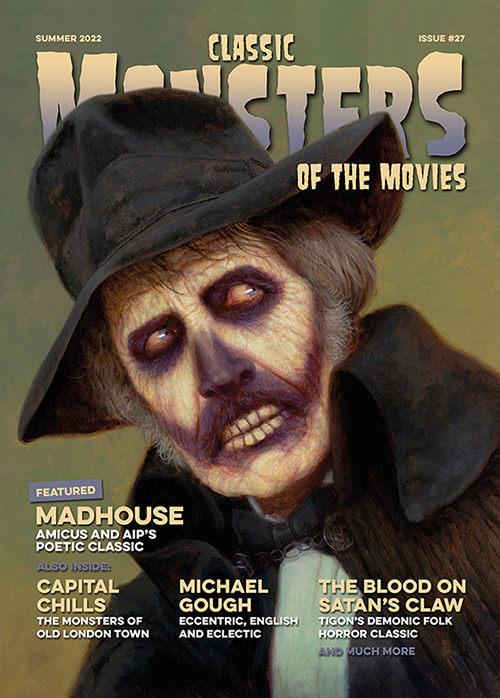 This issue's cover feature is worth the Price of admission alone, with a beautiful painting by Daniel Horne heralding our feature on 1974's Madhouse. Vincent Price, Peter Cushing, Robert Quarry and Adrienne Corri star in a movie that's packed with pitch-black humour and plenty of knowing nods to other entries in the genre. Our fact-packed feature takes you through the movie's development and context, exploring the ways in which Madhouse mirrors the real-life career trajectory of Price himself. As we head behind the cameras and the bodies begin to pile up, you'll also enjoy all those delightful moments of creepy camp that Mr Price does so well. Get the cameras rolling… Dr Death is back, and this Madhouse article will take you to the heart of the action.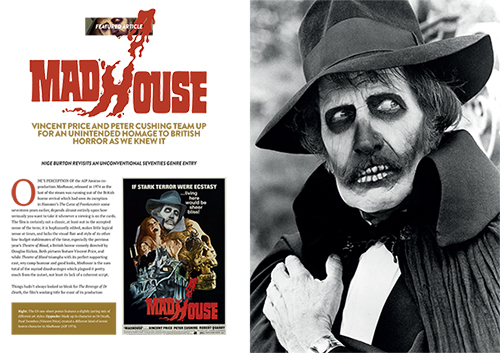 After all the excitement of filming, it might be therapeutic to take a little stroll through some quiet streets, but you'll discover that at least as far as horror movies are concerned, London town isn't the best place for a relaxed walk. Classic Monsters of the Movies issue #27 takes you on a whistle-stop tour of some of the English capital's lethal landmarks and mean streets, where a surprising number of classic movie monsters tend to hang out. From the denizens of the Tower to Jack the Ripper and various incarnations of Mr Hyde, it seems you can't turn a corner in London without bumping into an iconic movie villain.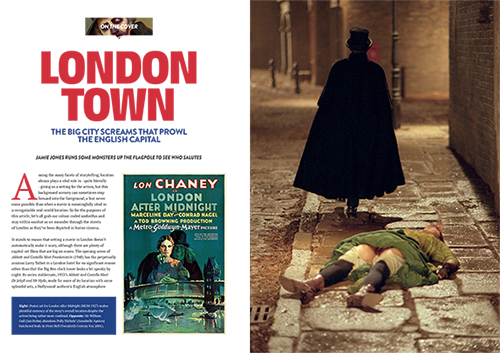 You'll also meet a true legend of classic horror cinema, as our biography feature unfolds the life of Michael Gough. His many roles took him from vampire chills in Hammer's Dracula (1958) to ape horror in Konga (1961), musical mayhem in The Phantom of the Opera (1962) and some seriously bad medicine in Horror Hospital (1973), before several forays into wild gothic animation among so many other performances. It's time to rediscover this overwrought hero of vintage horror cinema.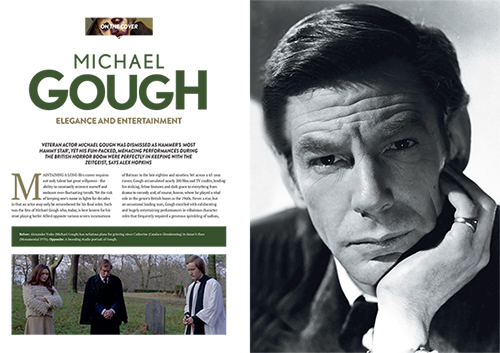 Perhaps a trip to the countryside will calm your nerves… not likely, as you'll discover when you read our examination of The Blood on Satan's Claw. Classic Monsters of the Movies issue #27 takes you through the sickly, nightmarish world of this 1971 folk horror classic, looking at Piers Haggard's direction as well as the many strong performances from the likes of Linda Hayden and Patrick Wymark.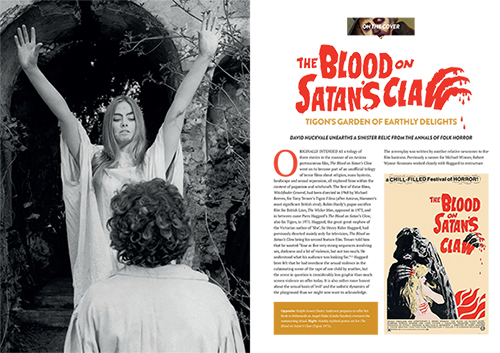 We also kick off a new occasional series giving the Classic Monsters of the Movies treatment to films which are still relatively new, but also share plenty of characteristics with more widely recognised classics. Starting things off, we cross the lonely causeway to Eel Marsh House and a face-off with The Woman in Black. This 2012 Hammer chiller absolutely drips with vintage atmosphere so don't be put off by its youthfulness, it's a ghost story with classic scares in spades.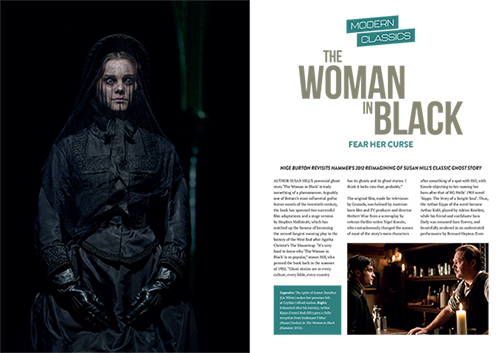 Need to lighten the mood after all those gothic chills? Our Kitsch Corner feature is just what you need, with a look at the quirky, colourful and downright bizarre Scared to Death. The only colour feature film starring Bela Lugosi, this Poverty Row production is a whirlwind of weirdness and creepy goings-on. Can you keep up with everything that's happening in the Van Ee clinic? Don't look at that floating mask in the window, get stuck in and enjoy this truly unique movie.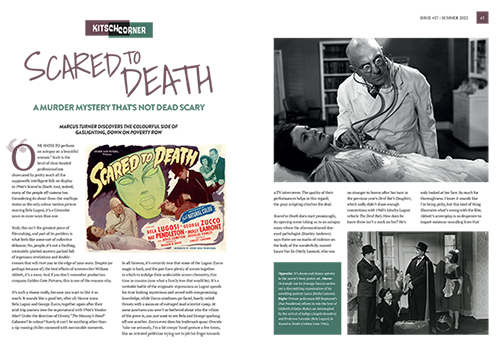 Classic Monsters of the Movies issue #27 is another essential for your vintage horror movie magazine collection. From the glorious glossy cover featuring Daniel Horne's stunning artwork, to the high-end paper stock and clean layout that allows every article to shine, it's a classic horror film magazine the likes of which you've never seen. Each meticulously restored image bursts from the page while our engaging articles draw you into movies you may already know, and some you might not.
Issue #27 of Classic Monsters of the Movies includes:
Madhouse – studded with horror stars, this macabre shocker blends fact with fiction in its tale of a famous horror star whose career isn't about to finish just yet.
Capital Chills – the streets of cinematic London are packed with terrors. From Victorian villains to more contemporary creeps, we meet the movie monsters who have made their home here.
Michael Gough – he's faced vampiric horror, opera ghosts and giant apes, not to mention taking care of a certain dark knight, but how well do you know him?
The Blood on Satan's Claw – check yourself for any furry patches and stay away from the old ruined church as we explore Tigon's sinister entry into the annals of folk horror.
The Woman in Black – don't be fooled by its 2012 release, this is a classic ghost story up there with the best of them, thanks to its nerve-shredding atmosphere and Daniel Radcliffe's central performance.
Scared to Death – what's happening to Laura Van Ee? Who are the mysterious dancers in the photograph? Bela Lugosi and George Zucco have some of the answers in an extraordinary piece of movie kitsch.
And more besides!
There's plenty more to discover in Classic Monsters of the Movies issue #27, all presented to the high standards you expect and bursting with information. Each article brings a fresh perspective on the classic horror film genre, and each page brings you something new to discover as you explore our unique angle on monster cinema.
Magazine specification:
68 pages
Full colour throughout
Packed with stills, posters, articles and info
Printed and finished to the highest standard