Product Description
In stock for immediate shipping.
Classic Monsters of the Movies issue #25 takes you back into the world of vintage horror cinema with the unique style and passion that is our hallmark. From beloved favourites to lesser-known chills, every page of this high-end horror movie magazine is filled with engaging journalism, crisp stills and a fresh approach, all wrapped up in quality production values that make for a magazine like nothing else. Taking inspiration from the monster magazines of yore, and bringing the experience bang up to date with the finest print processes, Classic Monsters of the Movies is the perfect tribute to the horror genre.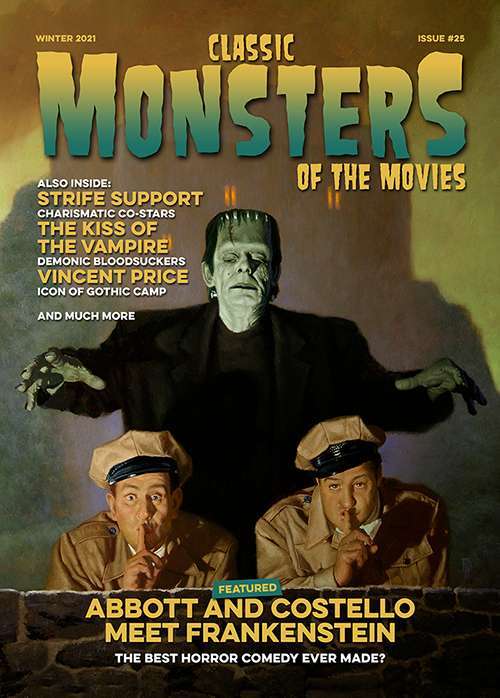 The glorious Daniel Horne oil painting adorning the cover of Classic Monsters of the Movies issue #25 lets you know what lies ahead – 1948's Abbott and Costello Meet Frankenstein. This treasured horror-comedy, a favourite of so many Monster Kids, receives the Classic Monsters treatment in a feature packed with information on the movie's origins, its sometimes difficult production and the ever-popular end result. A wealth of pin-sharp stills capture key moments from this celebrated star-studded motion picture, drawing you into the monstrous misadventures of Chick and Wilbur. The combination of laughs and scares isn't always easy to get right, but as you'll see, director Charles Barton overcame plenty of difficulties to get the best from his cast and crew. Packed with imagery and information, this feature is a must for any fan of Abbott and Costello Meet Frankenstein.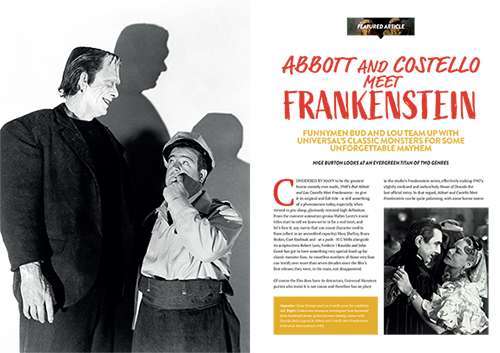 Our cover feature may be full of stars, but the horror genre wouldn't be what it is without the many support actors who hold the action together and give our headlining heroes the backup they need. Classic Monsters of the Movies #25 pays tribute to the men and women who became fixtures of our favourite films but rarely took top billing, instead offering their skills from the sidelines. Idiosyncratic performers like Maria Ouspenskaya, Skelton Knaggs and George Woodbridge didn't get much of the limelight, and yet the movies we love would be all the poorer without them. Our Strife Support feature gives the bit-players and co-stars a chance to shine.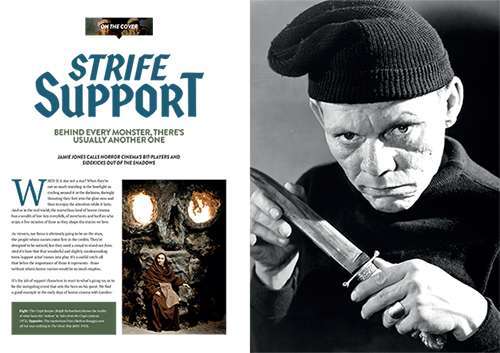 Did someone say shine? If you're looking for some sparkle, you can't do much better than Vincent Price, the subject of this issue's biography feature. From his family's success in the food industry, we trace his passion for the arts and journey to the centre of so many immortal motion pictures. Whether starring in the grisliest gothic nightmare or a sci-fi shocker replete with sardonic camp, he created a treasure trove of performances that are never anything less than amusing. Paired with moviemaking pioneers like William Castle and Roger Corman, he brought magic to the screen; but acting was by no means his only gift, as you'll discover in our absorbing Vincent Price biography.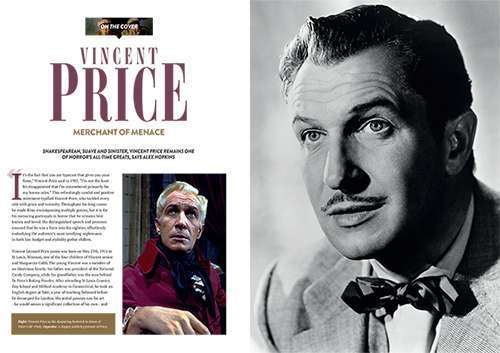 Fans of Hammer Horror have something to enjoy too, as Classic Monsters of the Movies issue #25 sees us surrender to The Kiss of the Vampire. Our rich exploration of this ever-compelling Hammer classic delves into the imagery and themes on show in Don Sharp's haunting occult extravaganza: guided by an abundance of beautiful stills, you'll discover the many details that underpin this distinctively stylish and devilishly sinister vampire thriller. As you'll see, there's more to The Kiss of the Vampire than meets the eye – but what does meet the eye is stunning indeed. A fresh appreciation of Dr Ravna's vampire cult awaits you…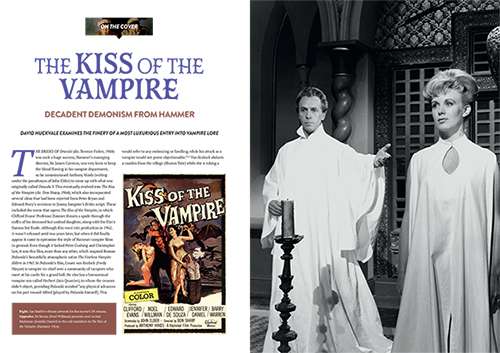 An altogether different approach to vampire horror came somewhat earlier, with Majestic's 1933 shocker The Vampire Bat. There's no shortage of stars in this quirky gem, with Lionel Atwill, Fay Wray, Melvyn Douglas and Dwight Frye all vying for your attention. Is there a vampire on the loose, or is something else afoot? With elements of science fiction, a good dose of mystery and some subtly sparkling performances from a set of horror icons, it's a movie with plenty to offer. Our entertaining analysis of The Vampire Bat is the perfect way to discover an oft-overlooked entry into the pre-Code hall of fame.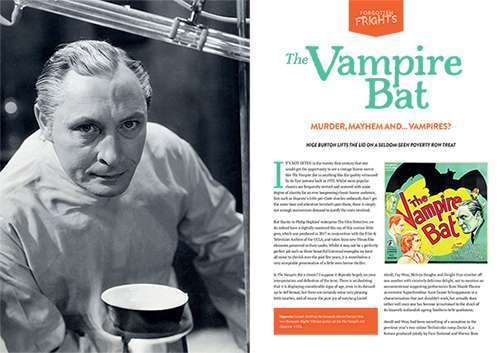 And for something altogether more riotous, head over to 1941's Horror Island with our Kitsch Corner feature. It's a non-stop haunted house romp with all the tropes you'd expect – a treasure map, a spooky suit of armour, and plenty of atmosphere. Dick Foran and Peggy Moran take centre stage but they're certainly not alone in a twisty, turny kind of a tale that's perfect with a big bucket of popcorn. There may be a fortune to be found, but will this band of misfits get anywhere near the truth? Dive into this wild, giddy little adventure and find out.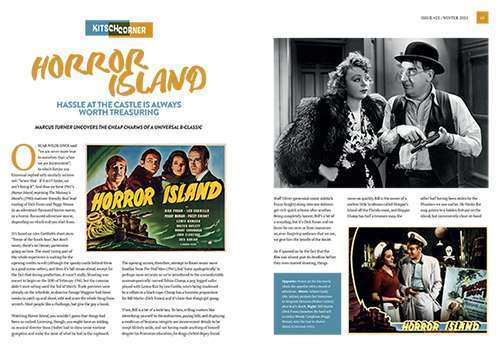 Classic Monsters of the Movies issue #25 is the perfect magazine experience for Monster Kids of any vintage. The beautiful cover art by acclaimed genre artist Daniel Horne is the perfect entry point into a magazine whose clean, timeless layouts allow each image to look its absolute best. And when it comes to film stills, our celebrated use of full-colour print processes gives even black and white stills a depth and definition that monochrome printing simply can't match. Each article is professionally written with wit and passion, turning every page into a treasure trove of information and nostalgia. Whether you're new to the world of classic horror cinema, or share our lifelong passion for the genre, Classic Monsters of the Movies #25 is a magazine you can't do without.
Issue 25 of Classic Monsters of the Movies includes:
Abbott and Costello Meet Frankenstein – this evergreen favourite has lost none of its magic in over seventy years. From full-on belly laughs and some perfect slapstick through to moments of genuine creepiness, it's the perfect mix of comedy and horror.
Support stars – horror movies are always a team effort, so it's time to tip our hats to the stalwart performers who toiled on the sidelines. Barkeepers, coach drivers and madmen – they took all kinds of roles and never failed to make us smile, shiver or scream.
Vincent Price – his languid delivery, gift for withering malice and expert sprinkling of camp make him one of the true icons of horror, but who was the man behind all those raised eyebrows and immortal performances? We look at his extraordinary life, career and legacy.
The Kiss of the Vampire – Hammer strike again with a luxurious entry into vampire lore. An atmosphere of decadent nastiness makes this a powerfully stylish movie, and even some dodgy bats can't detract from its importance in the Hammer canon.
The Vampire Bat – fanged fury gets a pre-Code makeover with some help from Universal's sets as an intriguing mystery unfolds. Let's head down to Kleinschloss and find out just what's behind all those unexplained deaths. There's certainly more going on here than first appears…
Horror Island – treasure hunting was never so much fun! Dick Foran and Peggy Moran head up the cast of a movie so full of haunted house goodness you wonder how they managed to fit everything in. It's ridiculous – but you wouldn't want it any other way.
And more besides!
Classic Monsters of the Movies issue #25 is the kind of horror magazine you've always dreamed of. Beautifully reproduced imagery bursts with detail while you enjoy compelling journalism and a fresh angle on the movies you love – as well as explorations of treats you might not have discovered. As fans around the globe will testify, Classic Monsters of the Movies is the ideal way to rediscover your favourite monsters.
Magazine specification:
68 pages
Full colour throughout
Packed with stills, posters, articles and info
Printed and finished to the highest standard