Product Description
In stock for immediate shipping.
Classic Monsters of the Movies issue #24 brings you the very best in classic horror movie nostalgia, recalling plenty of your favourite frights as well as some new discoveries along the way. Our commitment to the absolute highest standards in writing, production and image restoration brings you a range of compelling articles richly illustrated with pin-sharp stills. Since our celebrated first issue in 2015 we've shone a new light on the classic horror film genre and shared in the passion that Monster Kids around the globe enjoy. Now, we bring you a new issue once again packed with your favourite monsters and some new ones to boot.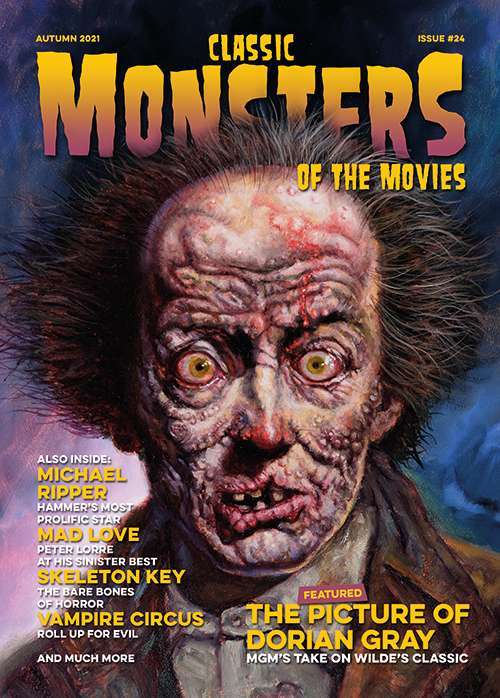 Your voyage of discovery in Classic Monsters of the Movies issue #24 begins with the hypnotic detail and macabre beauty of Daniel Horne's cover painting. Depicting the warped portrait from 1945's The Picture of Dorian Gray, this all-new oil painting is a feast for the eyes and the soul. Inside, our lead feature explores the darker corners of this adaptation of Oscar Wilde's cautionary tale. The icy central performances of Hurd Hatfield and George Sanders draw you into a luxurious yet depraved hidden world of hedonism, cruelty and heartbreak – a wealth of stills and analysis show the story behind the movie as it walks its sinister path to the unveiling of that ghastly portrait.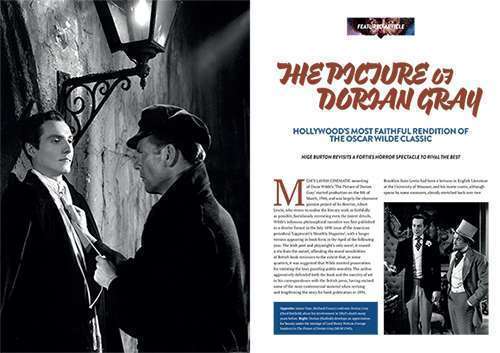 A different kind of horror awaits with our trip to Hammer's Vampire Circus (1972) and a fascinating analysis of this beloved evergreen. We explore this violent, eerie motion picture to discover the details of its making, the power of its haunting imagery, and its enduring impact on the Hammer legacy. This is a vampire tale with a difference, weaving in story elements of plague confinement and the ever-present creepiness of a circus. As you dive into this absorbing feature you'll find a new appreciation for the production, as well as for the performances of its ensemble cast.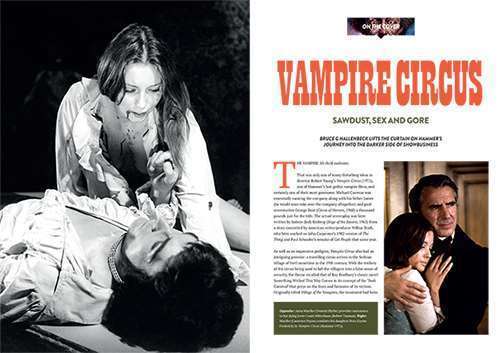 While The Picture of Dorian Gray is packed with dark secrets, it's certainly not the only horror picture with skeletons in the closet. In fact, we have whole feature devoted to the chattering skulls and skeletons that have shaped our experience of the horror genre. The dancing puppet bones of House on Haunted Hill (1959), the bouncing anatomy skeleton of Frankenstein (1931) and those iconic screaming warriors in Jason and the Argonauts (1963) – where would we be without a skeleton to remind us of the brevity of life? This entertaining whistle-stop tour of the bony beasts of horror will prove that monster cinema often can't get very far without a skeleton underpinning it.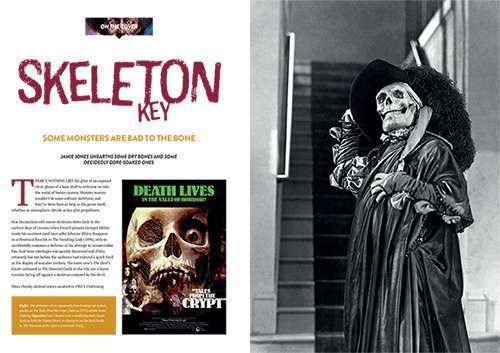 Another stalwart of the horror world comes into focus elsewhere in Classic Monsters of the Movies issue #24, with our biography feature looking at the life of beloved character star Michael Ripper. As Hammer's most prolific performer, he's a familiar face in all manner of spooky goings-on in classics like The Mummy (1959) and Dracula Has Risen From the Grave (1968), but his career encompassed so much more, with roles in beloved TV shows including Doomwatch and Butterflies. It's time to learn more about the man behind all those quirky portrayals that had us chuckling between the screams, and our in-depth biography is the perfect place to start.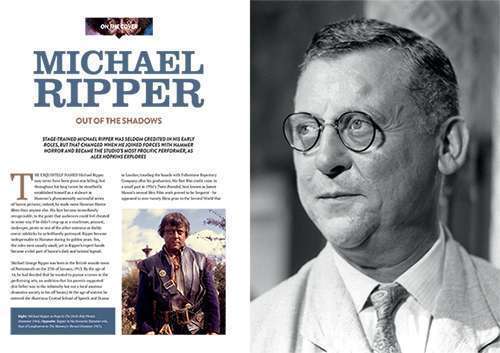 We also head back to the golden age of horror movies with an analysis of MGM's 1935 body horror shocker Mad Love. Central to this story of ghastly obsession are the stunning central performances from Peter Lorre, Frances Drake and Colin Clive, but there's so much else to discover besides. We take you from the haunting love triangle through the stylised settings and the moments of surgical horror than never fail to chill the blood. As you explore this elegantly disturbing movie, a wealth of glorious stills brings the story to life, reminding you of just what a rewarding motion picture it is.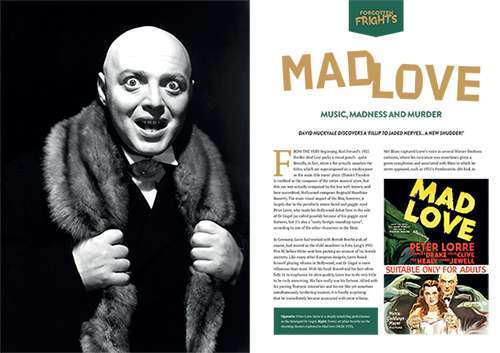 And if all that obsession and madness weren't enough for you, you can dive into our Kitsch Corner feature which looks at the outrageous story of The Brain That Wouldn't Die. A telepathic head in a tray, a mutant behind a locked door, and some of the hammiest acting you've seen in a long time – this movie has them all. So let's head up to the secluded country house (better not take the car though – the roads are terrible…) and see what Dr Bill's got on the worktop…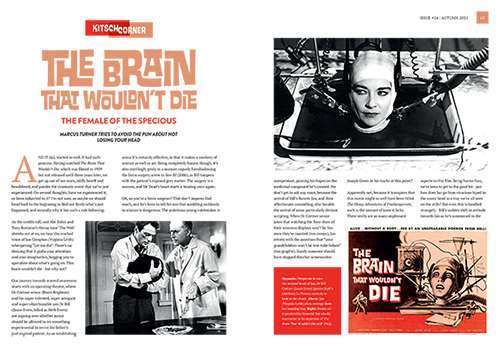 Classic Monsters of the Movies issue #24 is designed and produced with Monster Kids in mind. Taking inspiration from the classic horror movie magazines of yore, and bringing the concept bang up to date, this is a vintage monster cinema magazine the likes of which you've never seen. From the lavish cover art by genre leader Daniel Horne, through to the engaging discussion and analysis of each article, there's something here for every fan of classic horror. The use of full-colour print processes means that even black and white images have a richness and depth that traditional monochrome printing doesn't provide; meanwhile, the clean design allows each image to take its rightful place alongside the engaging, professionally-written articles that immerse you once again in familiar chills whilst revealing ones you may yet have to discover.
Issue 24 of Classic Monsters of the Movies includes:
The Picture of Dorian Gray – our cover story dives into the murky, immoral world of a truly ageless tale. What price would you put on eternal beauty? MGM brought Oscar Wilde's question to the screen in style, along with some pretty horrifying answers.
Vampire Circus – get ready for a show like no other, as Hammer weave a unique entry into the vampire horror hall of fame. This grotesquely seductive movie is full of strange ideas and images, so join us as we cross through the Mirror of Life…
Cinema skeletons – there's nothing like a spooky skeleton to create a macabre mood, and horror cinema is full of them. From carnival creeps to dusty old bones, there's a whole crypt-ful of rattling relics that have shaped the atmosphere of our favourite movies.
Michael Ripper – always a welcome presence in Hammer's many worlds of gothic horror, this skilled actor brought a unique sparkle to each of his performances. We look at his life, his legacy and his important place in the Hammer Horror story.
Mad Love – body horror gets the MGM golden age treatment in a movie that you won't forget in a hurry. Madness, murder, medical misdeeds and some expertly thrown bladed implements make for a deeply unsettling motion picture spectacle.
The Brain That Wouldn't Die – our Kitsch Corner feature explores a movie that's truly one on its own, with an altogether original take on transplant science. Don't blink, or you might miss something that's as tacky as it is tasteless as it is utterly irresistible.
And more besides!
Classic Monsters of the Movies issue #24 is the perfect addition to your vintage horror movie magazine collection. The winning combination of glorious imagery, captivating articles and quality production has legions of fans around the world and has given horror fans of all ages a fresh appreciation for these beloved movies.
Magazine specification:
68 pages
Full colour throughout
Packed with stills, posters, articles and info
Printed and finished to the highest standard