Product Description
In production.
The American Werewolf in London 1981 Ultimate Guide Signed Hardback is the collector's edition of this guide, in a strictly limited edition hardcover format – only 50 in the world – and signed and numbered by the authors with a FREE exclusive An American Werewolf in London art print.
Head out on a backpacking trip like no other with the hardback Ultimate Guide to An American Werewolf in London 1981, a loving exploration of a horror classic. The unique combination of shocks and laughs, coupled with astonishing special effects, makes this movie one of a kind, and our hardcover Ultimate Guide is the ideal companion as you follow David Kessler's metropolitan misadventures.
Whether you're a fan of horror movies, comedies or werewolf mythology, you can't ignore the impact of John Landis' revered classic, which brought us a new angle on filmmaking and revitalised the lycanthrope movie for a new era. Our Ultimate Guide to An American Werewolf in London celebrates the movie's production, artistry and cultural legacy, with an abundance of information, trivia and beautiful imagery to lead you through the story of one of horror cinema's all-time greats. Just as the movie itself captured our imaginations, this glorious movie magazine will inspire you to view the film afresh and rediscover its myriad charms.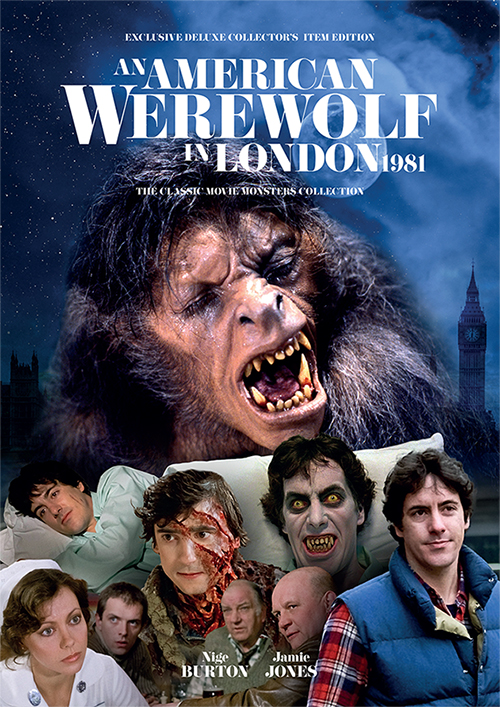 REMEMBER – THERE ARE ONLY 50 COPIES OF THIS TITLE IN THE WHOLE WORLD!
Within the pages of this luxuriously produced hardback guide to An American Werewolf in London you'll learn about the development of the movie, from director Landis' initial ideas through to the production, casting and the evergreen final results that wowed critics and audiences alike. Our famed image restoration work means every piece of art looks its best, and full colour printing means that even black and white stills have a stunning depth and richness. Our American Werewolf in London Ultimate Guide Signed Hardback is presented in A4 format (210mm x 297mm) and produced to the absolute highest standards – inspired by the kind of movie brochure you might have bought at the cinema in 1981, it's a beautiful way to revisit a modern movie classic.
As well as celebrating the movie itself and discussing its place in horror movie culture, our hardback guide to An American Werewolf in London also pays ample tribute to the many kinds of artists who brought it to life. That's why, alongside the entertaining and informative articles with their wealth of imagery, you'll also find a number of engaging biographies that reveal the lives and careers of the cast and crew who made the movie a reality. As central protagonists David and Alex, stars David Naughton and Jenny Agutter bring warmth and pathos to a tale of horror, while Griffin Dunne's portrayal of doomed Jack – in his human and increasingly ghoulish forms – offers dark humour and a sense of eerie mysticism. Meanwhile, support actors like John Woodvine and Don McKillop add context to the action – their stories will give you a deeper knowledge of the movie's cast and a greater appreciation for their performances.
Of course, no American Werewolf in London hardcover guide would be complete without a look at Rick Baker's sensational, Academy Award-winning special effects, which can make us squirm with discomfort even today. He's just one of the many creatives who worked behind the scenes to bring this revolutionary slice of cinema to the screen: you'll also discover more about director John Landis, composer Elmer Bernstein and so many others. The biographies in our compelling publication shine a spotlight on the people we have to thank for such a thrilling motion picture experience.
This hardcover guide to An American Werewolf in London is unlike any guide you've ever seen to the movie. Our commitment to top-drawer production means this luxury movie guide book is a feast for the eyes, with clean and unfussy design making for a timeless, sumptuous experience as you browse the content. Images burst from the page with clarity and richness, while the sturdy cover and smooth crisp high paper stock make this a real treasure for your magazine collection.
There's a bad moon rising, so we need to stay off the moors. Let's find an empty table at the Slaughtered Lamb (at least the locals quietened down when we walked in) and enjoy the signed hardback Ultimate Guide to An American Werewolf in London – it's something to really get your teeth into, and a publication no fan of the movie should miss.
Collectors please note: the art print included with this product is different from the one accompanying the signed softback.
Prefer an unsigned copy without the art print? Click here for the regular version of this title.
40 pages
A4 portrait format
Full colour throughout
Image wrap hardback cover
Individually signed and numbered by the authors
Includes FREE American Werewolf in London 1981 art print