Product Description
In production.
The Old Dark House 1932 Ultimate Guide Hardback is the collector's edition of this guide, in a strictly limited edition hardcover format – only 30 in the world – and signed and numbered by the authors with a FREE exclusive Old Dark House art print!
The Old Dark House 1932 Ultimate Guide Signed Hardback is a glorious celebration of this Universal golden age classic, evoking the movie's brooding atmosphere!
LOW SHIPPING RATES WORLDWIDE!
As one of legendary director James Whale's four captivating horror movies, The Old Dark House has a very special place in the hearts of monster film fans. Based on J B Priestley's novel Benighted, it told of a group of mismatched travellers thrown together in a remote country house by a fierce storm, but facing something much worse within the walls of the old Femm residence…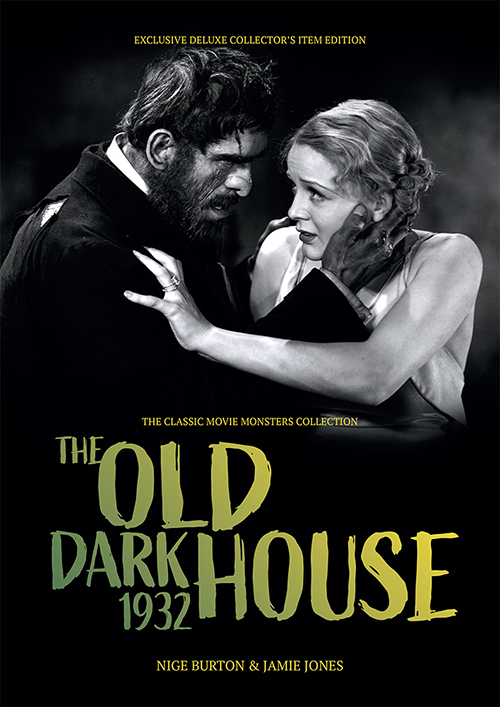 A star-studded cast with the likes of Boris Karloff, Gloria Stuart, Ernest Thesiger, Charles Laughton, Eva Moore, Melvyn Douglas and Raymond Massey brings the tale to life, and Classic Monsters are proud to present a luxurious full colour hardback Ultimate Guide exploring the making of the movie, its place in horror cinema history, and the extraordinary pool of talent that brought it all to the screen.
REMEMBER – THERE ARE ONLY 30 COPIES OF THIS IN THE WHOLE WORLD!
Shaping Universal's golden age of horror, The Old Dark House was a watershed moment in the genre; it's packed with memorable images from the billowing storm-lashed curtains in the corridor to the shadow-haunted dining room and the claustrophobic nightmare of the upper staircase. Our renowned image reproduction work ensures that as you explore our Old Dark House hardcover movie guide, you'll experience every detail, every moment of tension, and every howl of that incessant wind outside. Full colour printing means that even black and white images enjoy a richness that fires the imagination and awakens memories of this beloved classic.
The oppressive sense of dread – what's upstairs? Why are Horace and Rebecca so frightened of that mysterious locked door? – is one of the hallmarks of the film's power; our hardback Ultimate Guide to The Old Dark House explores the reasons why it still has such impact today. Insightful articles bring the tale to life in accessible and vivacious style, giving you a unique view on how Priestley's novel came from the page to the screen and how the combination of skilled personalities brought moviegoers a cinema experience like nothing else.
Celebrating the enduring power and majesty of this golden age classic, this Old Dark House hardcover book is packed with stills, lobbies and artwork that plunge you into the dysfunctional world of the Femms and their rain-soaked house guests. Biographies introduce you to the cast and crew, showing how each played their part in creating a motion picture that has lost none of its power. You'll discover their lives and careers, gaining a new appreciation for their diverse bodies of work and possibly encountering a few surprises along the way.
Part mystery, part black comedy of manners, part terrifying horror thriller, The Old Dark House has no equal. There really is nothing like this movie, and our atmospheric hardback guide to The Old Dark House captures the sense of isolation and vulnerability – tempered with director Whale's deliciously dark humour – that makes it such a favourite.
The wind is howling, the rain is lashing down, and nobody's going anywhere on that washed-away road. It's time to stop making shadow pictures, have a potato, and immerse yourself in our magnificent hardcover Ultimate Guide to The Old Dark House – the perfect tribute to a milestone in horror cinema. And remember, this hardback edition comes with a FREE art print that cannot be obtained anywhere else.
Collectors please note: the art print included with this product is different from the one accompanying the softback.
40 pages
A4 portrait format
Full colour throughout
Image wrap hardback cover
Individually signed and numbered by the authors
Includes FREE Old Dark House art print