Product Description
ULTRA-RARE – ONLY 4 IN THE WORLD!
Take a fresh look at one of horror's modern classics with our Friday the 13th franchise magazine guide – signed by Jason actor Kane Hodder and both authors, packaged in a black presentation box with a FREE exclusive art print.
LOW SHIPPING FOR ORDERS TO THE UNITED STATES, UK, CANADA AND EUROPE!
The name Jason Voorhees is a byword for slasher horror. This machete-wielding marauder just won't stay down, no matter what you hit him with – and our dedicated Friday the 13th magazine guide, Jason, explores the reasons why we can't stay away from Crystal Lake.
From the beginnings of this classic movie series, through its many twists and turns, to the 2003 crossover mash-up finale, with an extra feature on the 2009 reboot, Jason is the perfect way to rediscover a franchise you thought you knew. A range of absorbing articles looks at each movie in turn, with great stills, facts and trivia giving you a deeper insight into this pioneering series. We look at Jason's different incarnations over the years, and check out the many teens who have fallen foul of Mr Voorhees. You may meet some familiar faces!
This item is one of only 4 copies in the world signed by Kane Hodder, star of parts 7, 8, 9 and Jason X, as well as both authors. It comes in a black presentation box – the perfect addition to your collection of Friday the 13th memorabilia!
Signed by Kane Hodder and both authors
36 pages
A4
Full colour throughout
Luxury matt laminated cover
Black presentation box
Exclusive FREE art print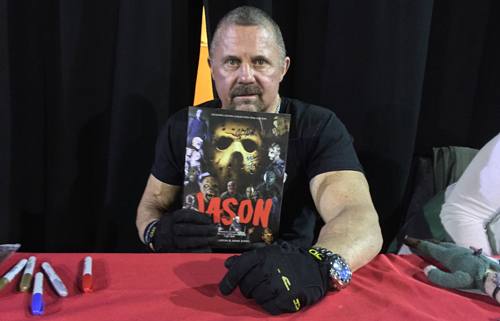 Kane Hodder giving the seal of approval to our Jason Souvenir Guide magazine…