Product Description
Get more issues for less with a Classic Monsters of the Movies annual subscription – save money on cover price and receive exclusive FREE postcards with new issues throughout the duration of your subscription!
Classic Monsters of the Movies magazine is a fantastic new publication for every horror movie fan in the land. Every issue is packed with in-depth features and analyses on classic monster movies, characters and stars, brought to you by a team of world-class journalists, and featuring cover artwork by acclaimed illustrators Daniel Horne and Ron Whittaker. Lifting the veil on all those monsters we love to fear, Classic Monsters of the Movies is already bringing the world of horror something to talk about.
Classic Monsters of the Movies is published quarterly, and you can save on cover price with an annual subscription. Subscribers also receive a new exclusive collector's item postcard set with each new issue of their subscription, just like these…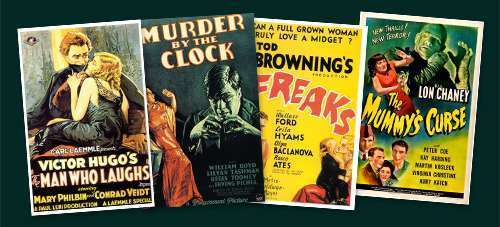 Each magazine has a range of compelling articles, taking a fresh look at some iconic horror movie characters whilst revealing the intriguing and often tragic stories of many monster stars. Future issues will scour the horror universe, bringing you a unique perspective on your favourite monsters – as well as some horrors you might not have encountered before.
Be sure of your regular monster fix by placing your subscription order today. Just choose the issue you want the subscription to start at using the dropdown menu above; we'll send any in-stock copies covered by your subscription, and the future ones will be shipped out to you along with the FREE postcards as they're released. Please note that payment will be taken in full for all the issues covered by your subscription, and in-stock issues won't receive postcards.
Spring issue: February
Summer issue: May
Autumn issue: August
Winter issue: November
68 pages
Full colour throughout
Packed with stills, posters, articles and info
Printed and finished to the highest standard
Take out a subscription and you'll receive a FREE postcard set with each issue!
Want to know more? Visit the official Classic Monsters of the Movies magazine website here.