Product Description
In stock for immediate shipping.
Your only chance to own a limited hardback edition print of issue #5 of Classic Monsters of the Movies – softback editions have been sold out for many months. This luxury hardcover book comes signed by the editor and assistant editor in a luxury tissue lined presentation box, with a certificate of authenticity and a FREE postcard set – LIMITED TO 50 WORLDWIDE!
Issue #5 of Classic Monsters of the Movies has been sold out for some time, but is now available to order as a luxury Legacy Edition. This means you can enjoy the excitement of this much-loved issue, packed with beautifully restored stills and fantastic articles, in a premium hardcover magazine format.
These stunning Legacy Editions come signed by editor Nige Burton and Assistant Editor Jamie Jones, they have a certificate of authenticity, a set of FREE exclusive postcards and are presented in a luxury tissue lined box – all for the price of a regular hardback at just £39.95 plus low worldwide shipping!
REMEMBER – THERE ARE ONLY 50 COPIES OF THIS IN THE WHOLE WORLD!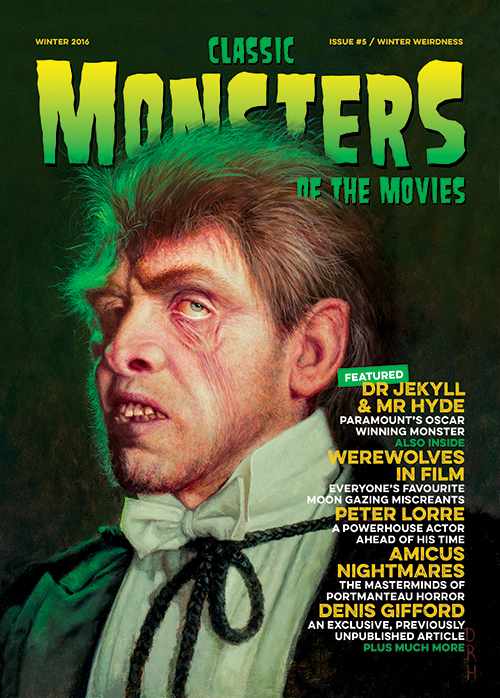 The fifth issue of Classic Monsters of the Movies is packed to bursting with articles putting a fresh spin on classic horror movies. Industry-leading journalism, stunning stills and timeless design make it the perfect way to rediscover your favourite monsters.
Check out the postcards included with this luxury hardback edition…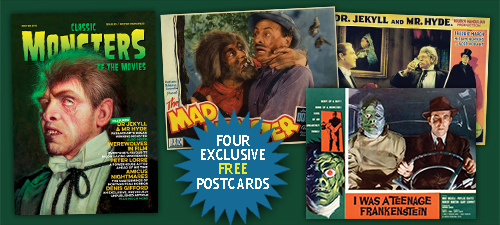 Issue 5 includes:
Dr Jekyll and Mr Hyde – Fredric March's Oscar-winning portrayal of the notorious scientist is the stuff of horror legend; we look at the making and legacy of this undisputed classic.
Peter Lorre – from M and Mad Love through to Casablanca, this actor showed a versatility seldom seen before or since. Our biography explores his life and extraordinary body of work.
Amicus – with portmanteau classics like Tales from the Crypt, and standalone productions such as I, Monster, this studio occupies a unique and much-loved place in horror culture.
Denis Gifford – we reveal a never-before-seen article from the UK's master of pop culture.
Novels to films – there are countless movie adaptations of horror novels, but which ones are the most entertaining and the most accurate?
The Cat and the Canary – it's fun, it's spooky, and it has some great horror moments. In this issue's Kitsch Corner, we're off to the swamps with Bob Hope and Paulette Goddard to meet the incomparable Miss Lu – why not come along too?
And so much more besides!
Classic Monsters of the Movies issue 5 features a beautiful painting of Mr Hyde by horror art maestro Daniel Horne. Inside, you'll enjoy our unique exploration into the movies, stars and stories that make classic horror movies so exciting. If you've enjoyed our previous issues, you'll love this one too, and if you haven't discovered them yet, you're missing out!
Book specification:
70 pages
Perfect bound (square spine)
A4
Full colour throughout
Image wrap hardback cover
Individually signed and numbered by the authors
Includes FREE postcard set
Includes certificate of authenticity
Packaged in tissue-lined luxury presentation box