Product Description
In production.
The first 250 pre-orders include a stunning FREE art print that cannot be purchased anywhere – don't miss this exclusive free gift, this is your only opportunity! If you already subscribe, make sure your subscription includes issue #18 to qualify!
LOW SHIPPING RATES FOR UNITED STATES, CANADA AND UK ORDERS!
Classic Monsters of the Movies issue #18 takes you back to the world of vintage horror cinema with a fresh exploration of beloved monster movies and the stories behind them, presented with the genre-leading image reproduction and commentary that has enthralled readers around the world.
This issue's breathtaking cover painting depicts Boris Karloff as Morgan in 1932's The Old Dark House, and our feature article is a fresh look at this moody classic. Karloff's menacing central performance is just the beginning, as this movie is packed with great characterisations from the likes of Ernest Thesiger, Gloria Stuart, Eva Moore and Charles Laughton, and James Whale's artful direction intersperses genuine terror with moments of dark, delicious mirth to beautiful effect. This movie has been celebrated by horror movie fans for years for its combination of atmosphere, horror and humour – whether you know it scene by scene or are less familiar with this golden age Universal's thriller, you'll find our article on The Old Dark House is packed with stills and information.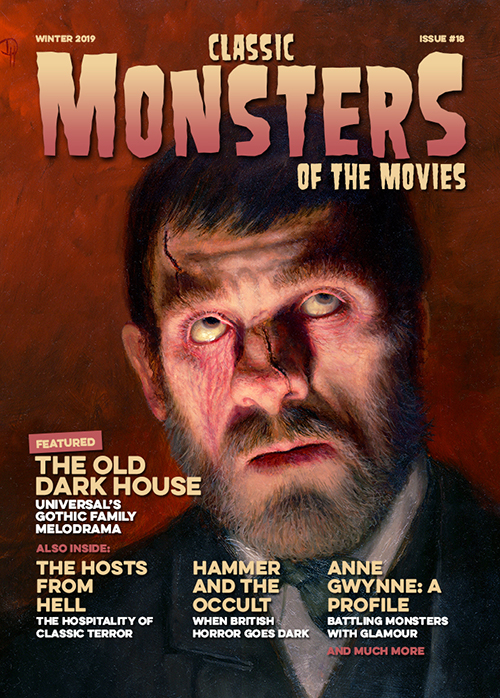 Issue #18 of Classic Monsters of the Movies has something special for Hammer fans too, as our new writer David Huckvale takes an expert look at occult themes in the movies of the English gothic masters. You'll discover the ways in which Hammer movies took existing mystical lore and transformed it into their own very special movie universe, with many moments of exquisite attention to detail along the way.
Our biography of Anne Gwynne also makes for fascinating reading. She's well known for her appearances in beloved horror movies including Black Friday (1940) and House of Frankenstein (1944), but there was far more to her life than monsters. Her life story offers an insight into this wartime pin-up turned scream queen.
And if you've ever felt a little unsettled when staying away from home, you're in luck, as issue #18 includes an exploration of the peculiarly terrifying hospitality horror genre. The many eerie innkeepers and hellish hosts of the horror genre have given us all manner of scares, so it's time to check in and check out the chills with us.
Classic Monsters of the Movies issue #18 is inspired by the vintage monster movies that make us all tick. Whichever studio is your favourite, whoever you've cheered and feared the most, we understand what it means to be a monster kid, and that's why every article includes beautifully reproduced stills and artwork from these gems of classic cinema. World-leading production values mean every issue is printed and finished to the very highest standard, giving you a classic horror film magazine experience you won't find anywhere else.
Issue 18 includes:
The Old Dark House – Universal's shadowy adaptation of J B Priestley's novel Benighted featured Boris Karloff, Ernest Thesiger and Charles Laughton in an eerie tale of family madness.
Hammer and the Occult – we welcome new contributor David Huckvale as he explores the darker side of Hammer Horror and discusses its sinister mystical leanings.
Anne Gwynne – this second generation horror queen sparkled opposite the likes of Boris Karloff, Bela Lugosi and John Carradine – our biography explores her life and work.
The hosts from hell – staying away from home can be a tricky business, especially in some of horror cinema's less welcoming locations that range from creepy ancient inns to haunted hotels.
And more besides!
Issue #18 of Classic Monsters of the Movies is an absolute feast for any classic horror movie magazine fan. With full colour printing throughout, we give images a richness and quality you won't see elsewhere, and our team of writers present rich, entertaining articles to leave you wanting more. Classic Monsters of the Movies is the ultimate classic horror film magazine.
The first 250 pre-ordered copies include a FREE art print inspired by this issue's content. This stunning print will only be available to pre-order customers or subscribers, so don't miss out!
Remember, you can save money with a discount on each issue when you purchase an advance subscription to Classic Monsters of the Movies. Click here for details!
Magazine specification:
68 pages
Full colour throughout
Packed with stills, posters, articles and info
Printed and finished to the highest standard
Want to know more about the magazine? Visit the official Classic Monsters of the Movies magazine website here.