Product Description
In stock for immediate shipping.
Discover the majesty and wonder of horror cinema's golden age artwork with Classic Horror Movie Art Volume One: Iconic Film Posters of the Silent Era and the Golden Age – a glorious presentation of the posters that opened the doors to new worlds of terror.
LOW SHIPPING RATES WORLDWIDE!
Movie poster art is more than promotional material. It is a deeply evocative craft in which every image, every brushstroke, captures the essence of the film it represents. Sometimes depicting part of the action, sometimes merely hinting at the horrors ahead, each plays its part in the viewer's experience of the production, and each deserves to be viewed afresh.
Classic Horror Movie Art Volume One: Iconic Film Posters of the Silent Era and the Golden Age is a magnificent publication that brings the detail, colour and beauty of horror cinema posters to life. Every page bursts with the meticulous image restoration for which Classic Monsters is so renowned, allowing the images to take centre stage while insightful, concise critiques encourage a detailed appraisal both of the artwork you know, and the posters you don't.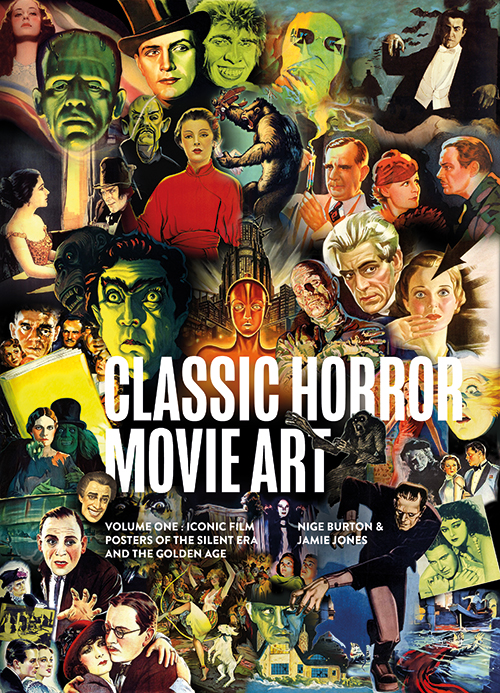 From iconic silent classics such as Metropolis (1927) to groundbreaking productions like Frankenstein (1931) and King Kong (1933), this horror movie poster art collection is a must-have for your collection, including not just the best-known images from each movie, but the lesser-known promotional pieces too. Premium-quality print processes bring each piece of artwork to vibrant life in a glorious tribute to the creativity and skill of the artists who shaped many moviegoers' first encounters with the classic monsters.
This collection of classic horror movie art is destined to be a key piece in your set of Classic Monsters guides, each painstakingly restored image sparking nostalgia and awe with each viewing. This sublime title is perfect square bound, with a matt laminated cover that shimmers with gloss highlights – a stunning tribute to the poster art of classic horror cinema.
84 pages
A4
Full colour throughout
Luxury matt laminated cover with gloss highlights