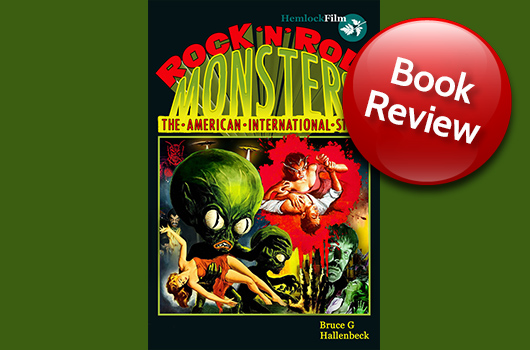 Rock 'n' Roll Monsters: exploring the hip, happening horrors of the 1950s
It matters not at what point you came into the fold – all fans of classic horror are, by their definition, fascinated by storytelling.
This interest in 'what happened next' naturally reaches beyond the stories contained within the movies themselves, extending to the development of the industry and the evolution of the horror movie as an art form. Now, with the release of Bruce G Hallenbeck's book Rock 'n' Roll Monsters, a specific era in the genesis of the modern horror movie is laid bare.
This highly entertaining and, at times, dazzlingly detailed work is a rich retrospective on the work of American-International Pictures, whose productions helped to shape the growth of the horror genre. Hallenbeck's meticulous research – not to mention his passion for this particular age of moviemaking – is evident throughout, with the intricacies of the studio's financial position, decision-making and place in the industry making for a genuinely satisfying read.
From the teenage angst of AIP's early productions, through the age of sci-fi shockers and into the 1960s Poe cycle, Rock 'n' Roll Monsters is characterised by a sense of excitement and discovery. Hallenbeck captures the thrill of a burgeoning movie industry finding its feet, as well as the rising sense of panic as television presented an ever greater threat.
Naturally, a huge number of movies come under the spotlight. Many of them – 1957's I Was a Teenage Frankenstein, for example, or 1960's House of Usher – will be familiar to horror fans; others, such as 1965's Dr Goldfoot and the Bikini Machine, might be a little more niche, their stories (not to mention their at times fabulously outlandish titles) providing an insight into the diversity of AIP's output. The whole package comes with plenty of stills and posters, a foreword by frequent AIP star David Frankham the icing on the cake. The text is up to Hallenbeck's usual exemplary standard, and Classic Monsters gives this book our highest recommendation.
Rock 'n' Roll Monsters: The American-International Story is published by Hemlock Books. To find out more, or to purchase your copy, visit the Hemlock Books website here.