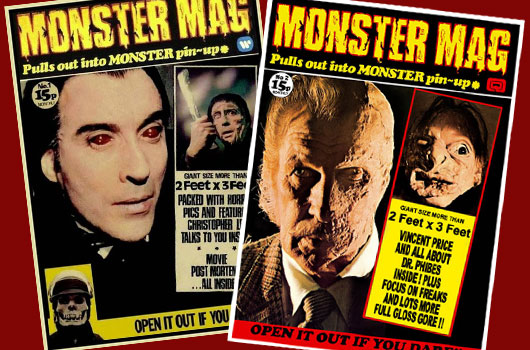 Monster Mag relaunches with a reprint of issue 2, the world's rarest film magazine!
'Open it Out if you Dare!' screamed the flash across the bottom edge, as if it were a command from the motorcycle helmeted skeleton alongside it. 'Pulls out into MONSTER pin up' this treasure promised me. Add to these a huge, red contact-lensed image of Christopher Lee as Dracula on the cover and the promise of that 2 feet by 3 feet fold out poster of him as the Creature in The Curse of Frankenstein, and you'll understand that, for a ten year old boy who loved his monsters, the excitement of this magazine was almost too much to contain.
It was 1973; Monster Mag was born.
My Dad had infected me with his passion for horror films a couple of years previously. He used to let me watch all the classics as they were screened in Appointment with Fear at 11pm every Monday on ITV. I would have to go to bed for a few hours earlier in the evening, but he would gently knock on my bedroom door at ten to eleven to tell me I could come downstairs as the film was about to start. I needed no further prompting; they were special times, and they nurtured my fascination with the fearsome.
He gave me his 1958 first edition of Famous Monsters of Filmland which, together with my well-thumbed copy of Denis Gifford's Pictorial History of Horror Movies, fed my horrible hobby admirably. But now I had my own magazine to collect. A proper one. In real time. And all in glorious colour!
I waited impatiently for issue two. A month. Two months. More. Nothing. And then, out of the blue, came issue 4. I grabbed it off the newsagent's shelf – he either didn't mind, or didn't notice that a banner saying 'For Sale to Adults Only' had been added – and devoured every word and picture immediately. I couldn't get enough, but what had become of issues 2 and 3?
Issue 3 was fairly easily procured by that very same newsagent, but it seemed nobody could lay hands on that elusive second number. Being a completist, even at that age, this unsettled me. My collection, which I still have in pristine condition, was incomplete. I couldn't rest.
But my search, which of course was far harder to undertake in the long ago of the 1970s than it would be in today's connected times, was to no avail. Undaunted, I avidly collected all subsequent issues, but the burning hole left by number 2's absence made itself felt keenly. Eventually, as if to tease, the publishers ran a back issues order advert in one of the later editions. Oh, no! There was issue 2 in all its glory, but with a big 'SOLD OUT' legend across it. What?! How could that be? Hmmph. Oh, well, at least we now knew that it existed, and what it looked like. But did it really exist?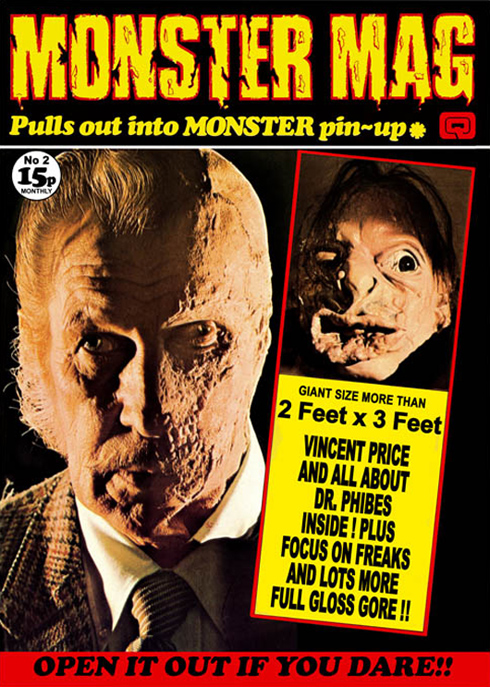 The much sought-after issue 2 of Monster Mag is now finally available as a reprint
The answer was a little more complex than we could ever have imagined. Monster Mag was printed in Italy and, upon its arrival into the UK, issue 2 was deemed unfit for human consumption by an overzealous HM Customs office, who promptly destroyed every copy. There were no English copies in existence and, although occasional French or German variants can be found on eBay, they sell for as much as $1250.
Undeterred, founder and Dr Who scripter Roger Cook pressed on with Monster Mag until issue 14 when, after a short break, it was revived by the young entrepreneurial editor Dez Skinn, until it was superseded by the award-winning House of Hammer in 1976. Shortly before the launch of this most excellent successor however, Skinn had promised readers that the next issue of Monster Mag would be a 'Double X' Special. Timings conspired to stop this happening – that much anticipated issue was never published. Until now.
Finally, after a forty-one year wait, the much sought-after, digitally remastered issue 2 of Monster Mag is available. And the 'Double X' Special should be hot on its heels in a spectacular relaunch of the world's original Monster Poster Mag.
I caught up with Dez Skinn, who has joined forces with original Monster Mag editor Roger Cook to bring about this phenomenon, to find out what was behind this momentous and exciting decision.
"Starburst had just made it to issue 400, Doctor Who was getting close to issue 500, Hammer Films weren't interested in me relaunching House of Hammer, so I thought it would be fun to tidy up the Monster Mag mess, with the missing issue 2 and the long-promised (aka: November 1976 cover date) Double X Special," he told me. "I wasn't sure there would be anybody who'd care, but Space Monsters editor Rick Gladman, who lives a few streets from me and bumped into me in the local post office one day, was adamant I should do it!"
I asked Dez what it was like to work with Roger again after so many years. "I think I have more respect for Roger Cook than almost anybody in publishing," he says with a wry smile. "A fellow Yorkshireman, it was him who dragged me in his wake out of IPC  Magazines to edit MAD, Tarzan and the like (which led to Monster Mag, then House of Hammer, which led to Starburst then Doctor Who Weekly, Star Wars Weekly, Hulk Comic and the rest all the way up to Warrior, introducing V for Vendetta). Without him, I'd probably still be at IPC, on Sonic or somesuch. He tracked me down through my website two years ago after us being out of touch since the late 1970s. And we've been having a whale of a time coming up with new film and TV ideas ever since. I can't think of anybody I'd rather be working with."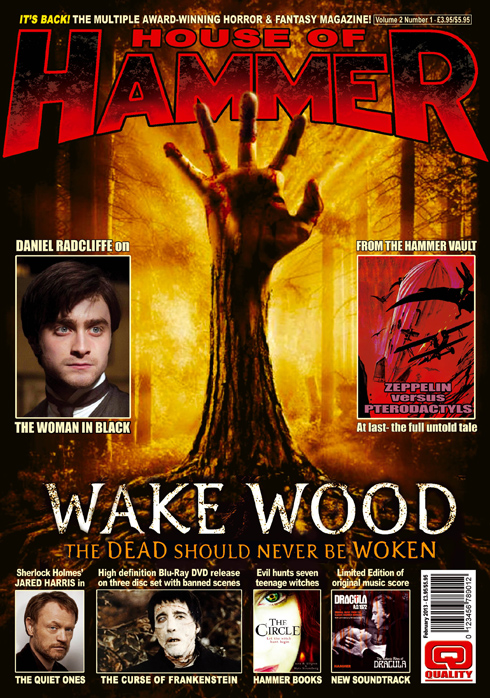 Dez Skinn's dummy cover for the proposed relaunch of House of Hammer
I wondered if, like me, Dez had been a horror buff as a kid, or if it was something that he'd become interested in once he started working in that field. "Were any of us not interested in horror (vampires, ghouls and ghosties) or science fiction (robots, rayguns and spaceships) as kids?" he asks with wide eyes. "I guess those sporty sorts at school weren't but I was never one of those! I grew up on library editions of Bradbury, Burroughs, Howard, Lovecraft and the Pan Books of Horror Stories, plus a dash of Famous Monsters… when I could find a copy in smalltown Yorkshire. I also adored most of the Ace Doubles and Bantam, Lancer et al imports that would somehow turn up on the local market's second hand bookstall back in the early 1960s."
Which answer goes to highlight just how different things were back then. No internet, so no emails or websites… just how did one go about promoting and selling magazines back in those days?
Dez smiles as he tells me "Back then it was great for maverick entrepreneurs (or whatever I was!). Taking Starburst as an example… once approved by Fox, allowing me access to all the Star Wars material, I put a scissor and pasteup dummy together, and enthused an indie distributor (Moore Harness, who also gave Felix Dennis his first break with Star Wars Poster Mag and Kung Fu Poster Mag). Great drinking buddy Charlie Harness then circulated a thousand run-offs of the first issue cover along with a simple black and white trade letter with a cut-off coupon at the bottom. We then waited for orders to come in. And they did, 72,000 of them! No TV ads, no stupid covermounts (aka: crap free gifts), nothing. Just 1,000 covers. Amazing."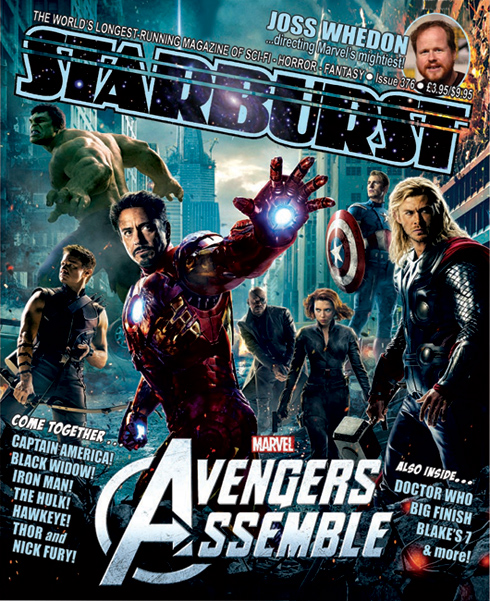 One of Dez Skinn's iconic cover artworks for Starburst
So, with all the world as our potential audience today, are things better now, or was it easier back then? Dez is quick to answer: "I've described how it was back then. Now you rent space on newsagent or supermarket shelves, bribe people with free gifts that cost more than entire editorial budgets, you never get your unsolds back, there's no van wholesalers doing the rounds and topping up newsagent stock, there are no boxouts – ie: supplying 10 or 20% extra of returnable copies to boost titles' circulation…
"I think it's sad what's happened. I hate the self-indulgent direct sale market where you live off the existing dwindling audience rather than reaching out for new blood. And there's no room for people like me in the newstrade who want to produce inexpensive innovative titles, it's all corporate and all licensed spinoffs. No indie distributors, no seat-of-yer-pants indie publishers. Just predicable safe copycat titles. The accountants have taken over!"
I wondered if, like me, Dez has a complete collection of all his published titles. "Heavens, no!" he exclaims, "at the last count, I'd produced around 80 different titles over the last 40-odd years, 200 issues of Comics International alone. I'm more interested in seeing other people's magazines than my own! I may have the occasional burst of nostalgic publishing, like designing a recent Vworp Vworp cover after the look of my 1979 Doctor Who Weekly approach and a few old-style Starburst covers, but I'm far more interested in what I might do next than what I did in the past."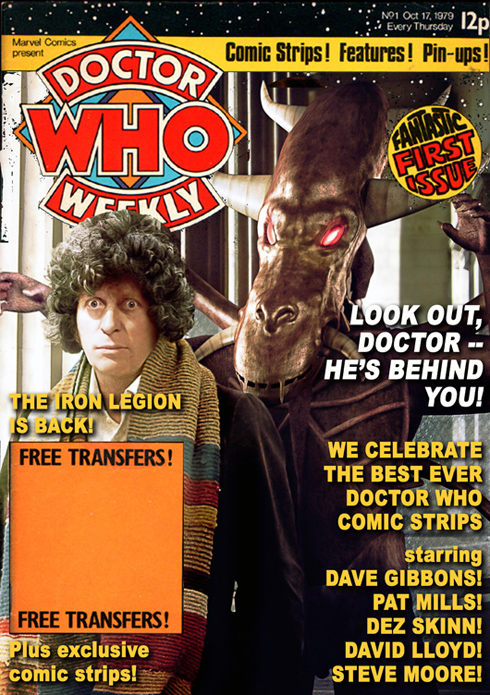 A Vworp Vworp cover idea by Dez Skinn, based on his 1970s Doctor Who Weekly
And finally, I wanted to know what Dez saw in the future for the relaunched Monster Mag. "Oh, you'd be surprised where we can go with it," he tells me with that same wry smile. "The one thing the computer age can't offer are 2 feet by 3 feet posters, so I'd say it has a very healthy future, both in itself and spin-offs."
To purchase your copy of issue 2 of Monster Mag, or the 'Double X' Special, click here to buy from Dez's website, or here to buy on eBay.