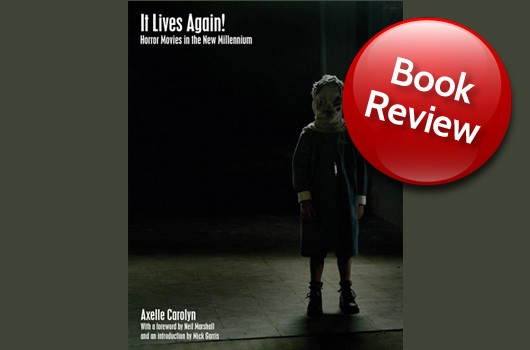 It Lives Again! – Horror Movies in the New Millennium
The film compendium is a familiar companion for any movie fan. Perhaps it's the collector's instinct, the desire for new things to fire our imaginations and feed our interests. Maybe it's the urge not just to have cool things on the shelf, but to catalogue them as well. Telos Publishing's book It Lives Again! manages to do both to an enviable standard.
As the subtitle suggests, It Lives Again! focuses on post-2000 horror movies, with a satisfying introduction setting the scene before tracing the progression of the trends, peaks and troughs in the horror film industry since then. From the word go, this cleanly designed hardback volume exudes professionalism – it's packed with excellent quality stills and never once skimps on information.
Key to the success of the book is its excellent overview of the cultural context in which movies were released. From the self-referential movies in the Scream (1996) camp which closed off the 20th Century, through the school shootings that made Battle Royale (2000) such a target for criticism, and the mid-2000s birth of the torture porn subgenre, It Lives Again! provides food for thought on the changing landscape of horror cinema, and its wider impact on popular culture.
Yet this is far from just a listing exercise. Author Axelle Carolyn has clearly watched a lot of horror movies, and her love for the genre is evident in spades. There's also something Gifford-esque in her light touch with the subject matter. A vast number of films are mentioned, with glimpses into their stories and themes, but the book never gets bogged down in irrelevant plot details or trivia. This is lean, energetic writing, designed for the intelligent horror fan.
Of particular note is the book's international awareness, with oft-overlooked non-US movies getting plenty of coverage. As well as the expected overseas essentials such as Ju-On (2003) and Wolf Creek (2005), you'll discover movies such as The Orphanage (2007) – indeed, It Lives Again! is mightily thorough.
It Lives Again! is available at the special price of just £4.99 plus shipping from the Telos Publishing website: http://www.telos.co.uk/product/it-lives-again-modern-horror-film-guide/
Review by Nige Burton