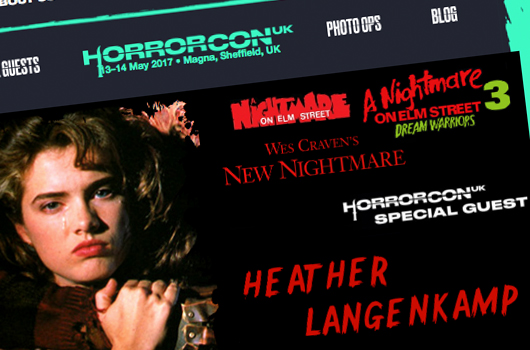 HorrorConUK – the essential event for any UK horror fan
No horror fan's life is complete without a convention, and HorrorConUK is the ultimate UK-based celebration of all things that go bump, thump and scream in the night. 2017's event will be the best yet, with events and celebrity guests covering all areas of the horror world.
Now in its third year, HorrorConUK has quickly become the go-to event for any fan of classic or modern horror in movies, TV and books. Held in the moody Magna Science Adventure Centre near Sheffield, Yorkshire, it's the perfect celebration of the horror genre. This year's event is held on Saturday the 13th and Sunday the 14th of May.
This year's guests include:
Heather Langenkamp: HorrorCon welcomes Elm Street's very own Nancy Thompson, the star of A Nightmare on Elm Street (1984), A Nightmare on Elm Street 3: Dream Warriors (1987) and Wes Craven's New Nightmare (1994).
Sid Haig: Captain Spaulding, the wickedest clown in town from The House of 1000 Corpses (2003) and The Devil's Rejects (2005).
Cassandra Peterson: the sassy, sensational Elvira, Mistress of the Dark.
Linda Hayden: star of Taste the Blood of Dracula (1970) and The Blood on Satan's Claw (1971).
John Jarratt: all the way from Oz, the star of Wolf Creek (2005) and Wolf Creek 2 (2013).
Sir Christopher Frayling: the world's leading vampire and pop culture expert.
Q&A sessions, signings and photo opportunities are available, as well as the Horror Marketplace where you can pick up some unique horror merchandise – including publications from Classic Monsters – and the Scareplay competition hosted by the scintillating Bunny Galore.
There will also be the exclusive first showing of the amazing Frankenstein's Monster busts from the Monster Charity Project 2017, which will be auctioned in October for the Make A Wish Foundation – a worthy cause, we're sure you'll agree.
Naturally, any convention worth its salt has to run like clockwork. HorrorConUK is known for its slick organisation and inclusive, welcoming atmosphere. Previous guests have included Kane Hodder (the longest-serving Jason in the history of the Friday the 13th series), make-up guru Tom Savini, Doug Bradley (Leatherface), Hammer Horror stars Martine Beswicke and Caroline Munro, Dacre Stoker (great-grand-nephew of Dracula creator Bram Stoker) and Gunnar Hansen (the original Leatherface), so you're in good company.
If you love horror, this is an event you cannot afford to miss. HorrorConUK is the UK's premier horror event – book your tickets today!
HorrorConUK takes place on Saturday the 13th and Sunday the 14th of May 2017. Find out more and book your tickets here.