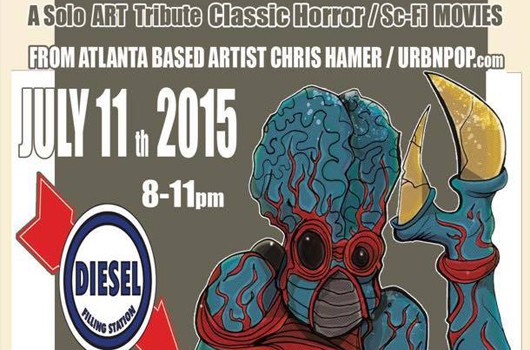 Horror art with a contemporary twist from Chris Hamer
Love monsters? Of course you do, otherwise you wouldn't be reading this. And if you're in Atlanta this weekend, you can't possibly afford to miss the art show by Chris Hamer. This super-talented graphic artist is displaying his work in a dedicated classic horror and sci-fi show with a celebratory night on Saturday, July 11th at the Diesel Filling Station in Atlanta, Georgia.
With drink specials from the Red Brick Brewing Co, and music by the Reverend Andy, it's the perfect combination of a night out, horror and great art – what could be better? If you aren't already familiar with Chris' work, you're missing out – check out his website here for more of his amazing art.
The event runs from 8-11pm, but the art will be on show until the end of July; you'll find the Diesel Filling Station at 870 N. Highland Ave. Guests are encouraged to dress as their favourite monsters, so dust off that cloak and get into the spirit. If you're in the area, you've got no excuse… but based on the quality of Chris' art, this event is going to be worth a journey!