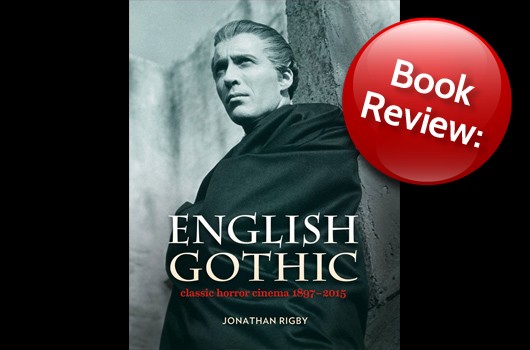 English Gothic: Classic Horror Cinema 1897-2015
'English Gothic', Jonathan Rigby's definitive work on British horror films, has been completely revised and updated and now covers the resurgence in popularity of that genre in the 21st century, alongside a comprehensive section on television horror.
That sort of précis the blurb on the dust jacket of the book, and it's absolutely true, but it simply does not do justice to this seminal volume on the history and influence of British horror cinema from its humble beginnings in the late 19th century right up to the present day.
Rigby's recognised love for his subject is evident in the warm prose, and the research that has gone into 'English Gothic' makes it surely the most impressive body of work since Denis Gifford's iconic 'A Pictorial History of Horror Movies', published way back in the early 1970s.
As horror fans, we love the addition of a handsome new tome to our library shelves, but seldom does one come our way to make us squeal with delight like this. The author has surpassed himself, weaving together a labyrinth of facts and anecdotes which so richly illustrate the hundred-and-twenty-odd year history of horror in British cinema so eruditely that you will need no other point of reference.
Lavishly illustrated with some genuinely rare, hitherto unseen stills, and replete with fascinating insights and intelligence on all our favourites, 'English Gothic' also manages to unearth some classics which have seldom seen the light of day. Jonathan Rigby has dug deep into the cultural graveyard to collate an encyclopaedia of rarities which, in concert with the classics, make for compulsive reading. In my opinion, this is not one for Kindle – you need to own the living, breathing animal itself to truly appreciate its magnificence.
With a new and intuitive foreword by Barbara Shelley and a considered, logical approach and layout, 'English Gothic' is one of those wonderful books that allows the reader to peruse it at leisure, snaffle titbits as and when required or gulp it down in one massive greedy feast, depending on how the mood takes him. That it will equally satisfy each in turn is beyond doubt and, as you've probably realised, I cannot rave about it enough.
If you only have one book in your collection about British horror cinema, you need to make it this one.
Review by Nige Burton
'English Gothic: classic horror cinema 1897-2015' is out now, published by Signum Books, priced £24.99 (US: $34.95 Canada: $41.00)