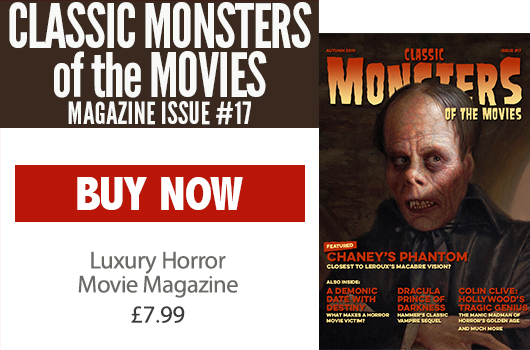 Classic Monsters #17: IN STOCK AND SHIPPING!
With fabulous cover art of Lon Chaney's Phantom of the Opera by Daniel Horne, there are no prizes for guessing what the main feature is in our next edition. We give you the low down on this iconic 1925 Universal classic, and discover just how close to Gaston Leroux's 1910 novel Rupert Julian's interpretation actually was. The movie is now considered a masterpiece, but it wasn't always so… join us as we unpick the fascinating behind-the-scenes story of this landmark silent blockbuster.
CMotM #17 is a feast for fans of the real horror movie classics, as we also remember the troubled story of Colin Clive. Packing powerhouse performances into the original 1931 Frankenstein, its 1935 sequel Bride of Frankenstein and the same year's Mad Love, this talented English actor was a favourite of director James Whale, but he led a pretty tragic existence. Find out more about his brutally short and blighted life in our in-depth exploration of the private man and his glittering but brief career.
This magazine includes a FREE art print while stocks last…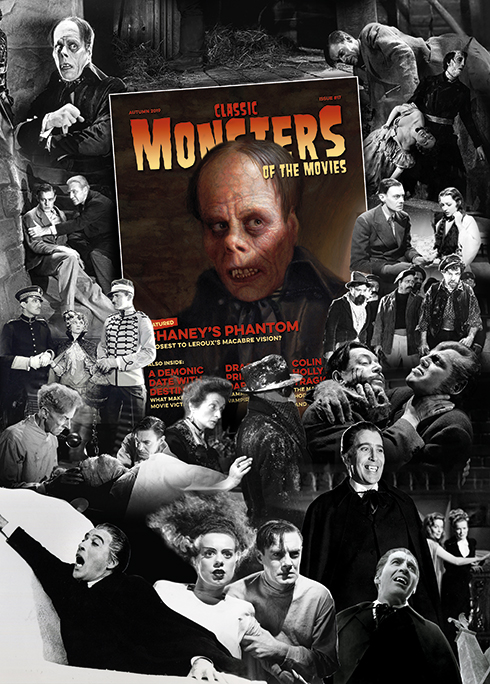 Hammer fans will be delighted with our profile on their 1966 sequel to 1958's Dracula as we lift the lid on the making of Dracula Prince of Darkness. Bringing Christopher Lee back as Bram Stoker's bloodsucking count ensured the film's success, as too did sterling performances from Andrew Keir, Barbara Shelley, Francis Matthews, Suzan Farmer, Charles Tingwell, Philip Latham and Thorley Walters. The movie also gave us a new adversary to vampirism in the shape of red wine glugging cassocked crusader Father Sandor. Should he have gone on into more celluloid adventures to rival – or even pair with – Van Helsing?
Elsewhere in this issue we delve deep into demonic dates with destiny to uncover the anatomy of horror film victims throughout the ages. Cinema history has been pretty unkind to them, with adversaries various meting out punishment and even death, but what actually defines the prey of a classic monster? Dive in to find out more, and peruse our metaphoric checklist to ensure you don't share any of their characteristics or behaviour!
That's just a taster of what's in store, and there's plenty more to sink your fangs into besides. Classic Monsters issue #17 is now in stock and shipping, and includes an exclusive FREE collector's item art print with all copies purchased directly from the Classic Monsters online shop while stocks last.
Sign up to our newsletter for all the latest updates on Classic Monsters titles, and you'll receive a FREE PDF e-magazine!