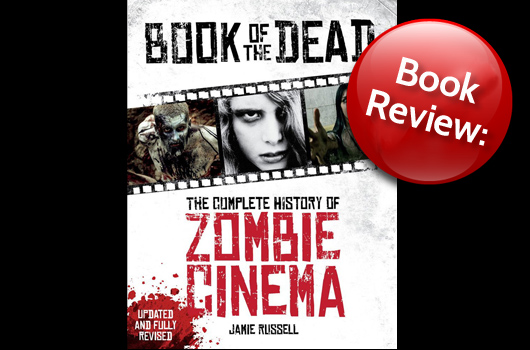 Book of the Dead: The Complete History of Zombie Cinema
Every film fan loves to discover new movies, and every reader loves to discover a new volume. Jamie Russell's 'Book of the Dead: The Complete History of Zombie Cinema' ticks both of these crucial boxes with gusto, placing one of horror's most enduring genres under the cracked, bloodied microscope of scrutiny to great effect.
'Book of the Dead' splits its presentation of the zombie genre into two formats within the same volume. Read the first half for an extended treatise on the genesis and development of the zombie story as an artform; head to the second and you'll find a gotta-watch-'em-all filmography which includes pretty much any zombie movie you'd care to name… not to mention a few you'd probably rather not name.
What's clear from the outset is that the author has done his homework and watched an awful lot of zombie films. However, there's a lot more going on in 'Book of the Dead' than a listing exercise, and this weighty tome is far more accessible than you might expect, making its exploration of the zombie in popular culture an easy read, a kind of brain-spattered popcorn reference book.
Russell's brisk, chatty style is laden with quotes and sparky rhetoric so although the book covers a lot of history and is packed with detail, it never feels like a lecture. Key moments from zombie movie history are explored, along with in-depth discussions of filmmaking techniques, content trends and the world events that formed the backdrop to the genre. There's even an interview with zombie filmmaking legend George A Romero.
Indeed, the cinematic zombie has risen from the grave of cultural favour a number of times, each time with new social significance sewn into its rags. From the very beginnings of the genre in Caribbean mysticism, through the atomic-age fears of the 1950s and into post-9/11 social angst, the book details the cultural impact of the zombie. Interestingly for a species of monster which has never had an identifiable, named character to represent the group as a whole, the zombie has become an important and memorable figure in pop culture.
While horror movies have long been used as a medium for social commentary, 'Book of the Dead' takes this one stage further by focusing on a specific genre within the horror oeuvre. Unexpectedly fascinating and rich in detail, it deserves a place on any zombie apocalypse survivor's coffee table.
Review by Jamie Jones
'Book of the Dead: The Complete History of Zombie Cinema' is out now, published by Titan Books, priced £19.99.