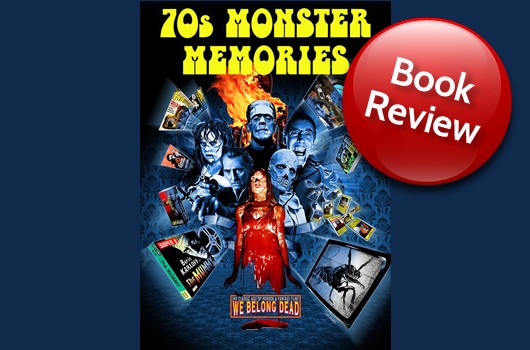 70s Monster Memories – a fun and ferocious feast of frightening flashbacks
I heard a thud on the hall mat. With delicious anticipation welling up inside me, I dashed to the front door. Was it here? Had it arrived? Yes!
What had been the object I had been so desirous to receive, you may ask. It was my copy of 70s Monster Memories, the remarkable new tome edited by Eric McNaughton, and published by his popular horror magazine, We Belong Dead.
Losing no time at all, I tore off the packaging, and was immediately amazed at both the sheer number of pages (over 400), and the quality and presentation of the book itself. Ignoring my Saturday morning chores (you see, I'm already regressing to childhood), I dived in with all alacrity.
Gosh. What a wealth of nostalgia and happy memories from my childhood introduction to our beloved movie monsters overwhelmed me. This book is very special. With a foreword by Dez Skinn and afterword by Alan Frank, it beautifully sandwiches between them stunningly illustrated articles of pretty much every 1970s monster memory you could think of. From all the magazines we would feverishly collect, from both the US and UK, to Aurora monster kits, home movies, bubblegum cards, and the books that defined our lives, this is a veritable treasure trove of ghoulish gold.
Each article is lovingly written by someone who was there, and we're able to relish each reminiscence along with a plethora of scribes who delight in sharing their collections and recollections. 70s Monster Memories is a phenomenal achievement which accomplishes all it sets out to do. I cannot imagine any bona fide 70s monster kid who would want to miss out on this.
So go on, immerse yourself in a terrifying trip down the haunted side of Memory Lane – you know you want to!
70s Monster Memories is available at http://webelongdead.co.uk/product/70s-monster-memories/ priced at £35 plus shipping.
Review by Nige Burton